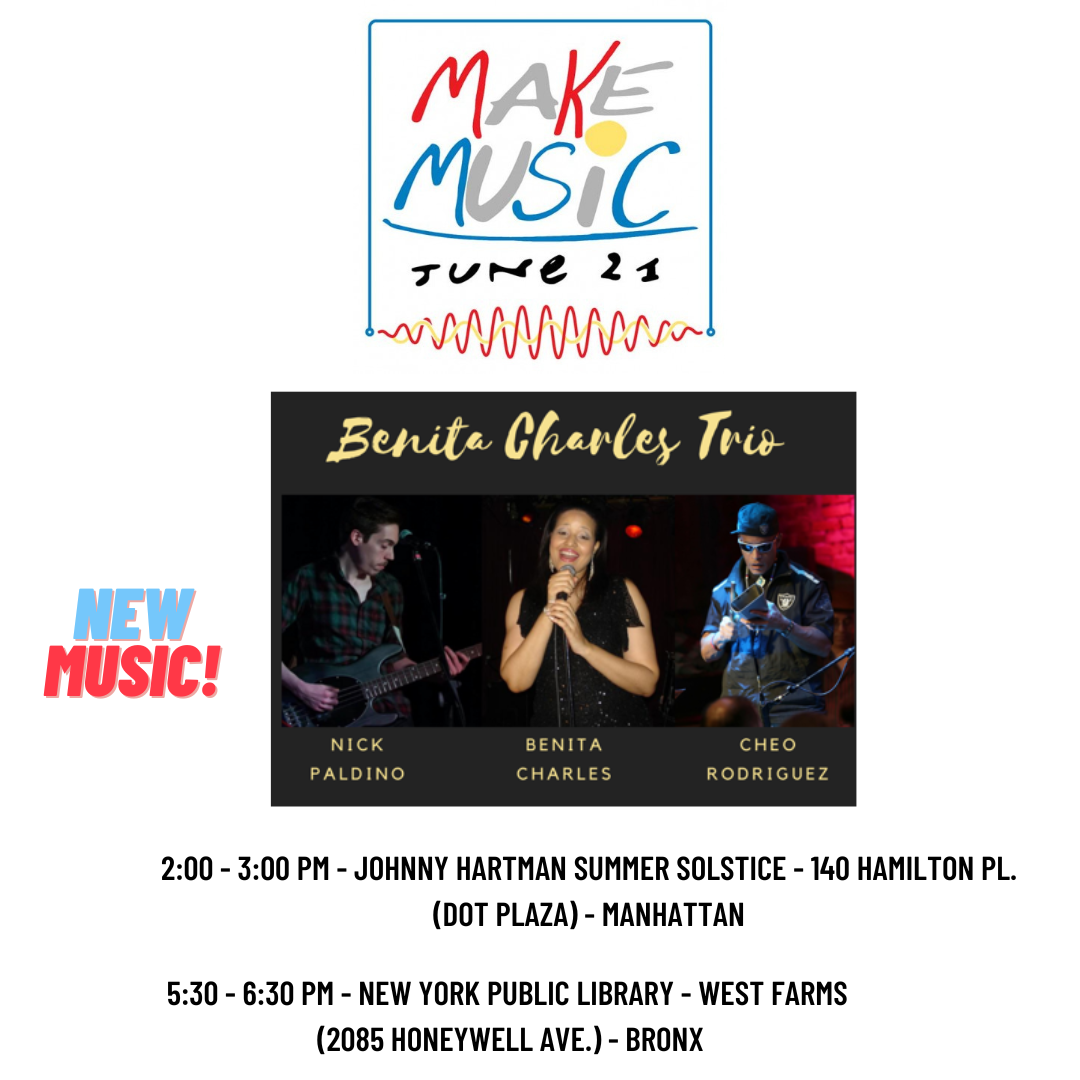 This year's Make Music New York Concerts are in Manhattan and the Bronx. Come join us for a fun-filled day of sharing great music, good vibes, and great entertainment!
In celebration of the first day of summer, NY-vocalist, Benita Charles will present a couple of special concerts for the worldwide Make Music Day festival on Tuesday, June 21, 2022, at 2:00 pm at Johnny Hartman Summer Solstice (140 Hamilton Pl. - DOT Plaza) in Manhattan and at 5:30 pm the New York Public Library - West Farms in the Bronx, New York City. (These are free outdoor concerts.) 
At the show, Ms. Charles will present original music from her Moments In Love CD, her new single, Be Bold (Be Brave) as well as songs from her favorite singers. The show will also feature her band, The Benita Charles Trio - musicians, Nick Paldino on guitar and Cheo Rodriguez on percussion. 
"I'm looking forward to bringing my music to New York City to spread joy!" – Benita Charles 
For more information, visit: http://benitacharles.com 
About Make Music New York: 
Now in its sixteenth year, Make Music New York is a unique festival of free concerts in public spaces throughout the five boroughs of New York City. All of the performances take place annually on June 21, the first day of summer and the longest day of the year. Completely different from a typical music festival, Make Music New York is open to anyone who wants to take part. From ten in the morning to ten at night, every kind of musician — young and old, amateur and professional, of every musical persuasion — pours onto streets, sidewalks, parks, and plazas to share their music with friends, neighbors, and strangers.
For more information about Make Music New York, visit:
Performance Details: 
Tuesday, June 21, 2022 
Make Music New York 2022
2:00 - 3:00 - Johnny Hartman Summer Solstice (140 Hamilton Pl. - DOT Plaza) in Manhattan 
https://makemusicny.org/2022-program-guide
5:30 - 6:30 - New York Public Library - West Farms (2085 Honeywell Ave) in the Bronx 
https://www.nypl.org/events/programs/2022/06/21/make-music-new-york-live-person-performance-featuring-benita-charles-trio
Join us for an evening of great music, entertainment, and good times! ***